Southern California's Palm Desert offers wide-ranging outdoor activities, more shopping and dining than you'd probably expect, and friendly local folks.
It's more resort-casual than Old West, so if you prefer your hikes with a martini chaser and your shops collected on a boulevard known as the Rodeo Drive of the Desert, this is the place for you.
Things to Do in Palm Desert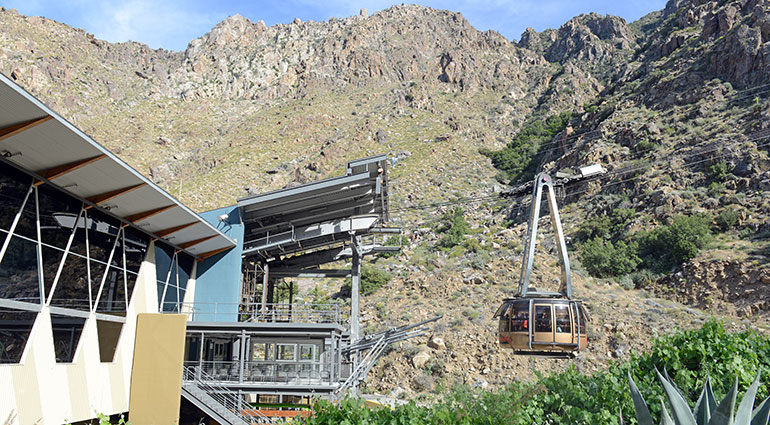 The Palm Springs Aerial Tramway, an attraction in its own right with the largest rotating tramcars in the world, lifts visitors from an elevation of 2,643 feet above sea level to 8,516 feet in roughly 10 minutes, where temperatures are routinely 30 degrees cooler than below.
Once you arrive at the top of Chino Canyon — and maybe after you put on a long-sleeve shirt or light jacket — you're standing at the doorstep of Mount San Jacinto State Park and 54 miles of wilderness paths. The Desert View Trail is a relatively easy 1 1/2-mile loop that meanders through the forest and features multiple panoramic stops. Serious trekkers should consider a San Jacinto Peak summit attempt. It's a gorgeous walk through mountain meadows and lodgepole pine timberlands, but the beauty comes with a real challenge. The trail is 5 1/2 miles one way and has an elevation gain of approximately 2,300 feet.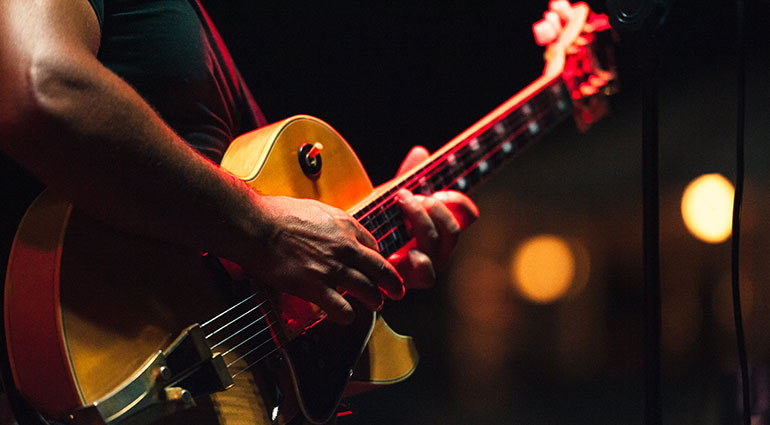 Palm Desert Nightlife
Thursday nights in Palm Springs are known far and wide for Palm Springs VillageFest, a year-round community event that takes over downtown and is equal parts farmers market, craft show and street fair. In other words, whether you're on the prowl for some locally grown ingredients to use back at your villa or a painting to hang on your living room wall back home — or you just want to mingle with the locals and listen to live music — this is the place to be.
Area casinos offer additional entertainment options and typically host a variety of popular musical acts. In addition to big-name performers playing special engagements, the Rock Yard at Fantasy Springs features some pretty fun gigs (think Pink Floyd and Led Zeppelin tributes) every weekend. And even if you're not into heavy guitar riffs and drum solos, it's hard to beat the fact that the shows are free.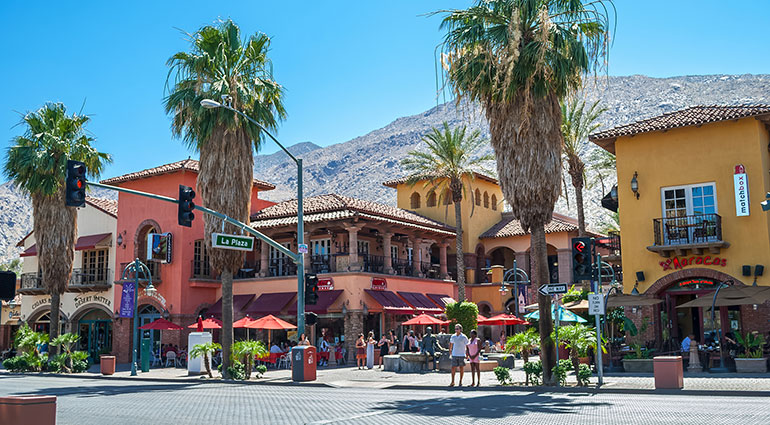 Shopping in Palm Desert
There are boutiques, malls and markets around seemingly every corner in Palm Desert, but two shopping Shangri-las are absolute must-visits. Palm Canyon Drive in Palm Springs is a funky mix of trends and traditions. Wander along this street and you'll discover all manner of objects you had no idea you needed, from antiques to zebra-patterned home furnishings.
Palm Desert's El Paseo, the Rodeo Drive of the Desert, is a mile-long stretch of stores fronted by various pieces of outdoor public art that can be nearly as fascinating as the apparel, gifts, jewelry and other items for sale inside. If you're looking for specific designers, stroll through the adjacent Gardens on El Paseo and Shops on El Paseo, where you'll find Coach and Louis Vuitton goods and Burberry, Gucci and Ralph Lauren merchandise, respectively.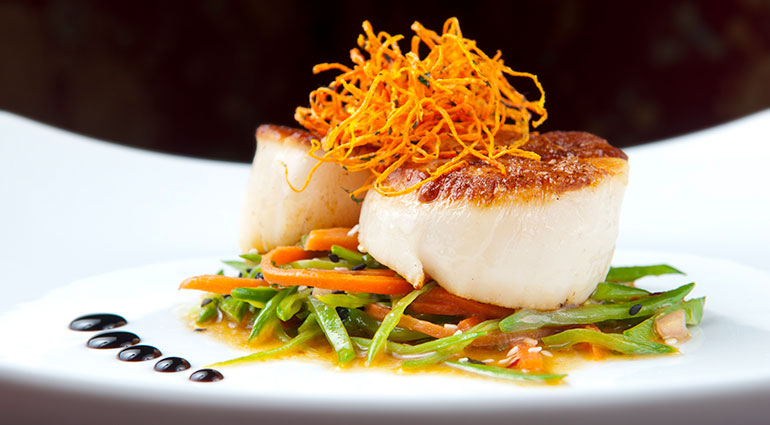 Best Restaurants in Palm Desert
The El Paseo district is the place to eat, too. There are scores of cafes, casual bistros and more formal eateries. And in the middle of all the action is Pacifica Seafood Restaurant. In addition to serving the self-proclaimed freshest seafood in the desert, regular specials include half-price bottles of wine on Tuesdays and a daily prix fixe sunset dinner menu. Pacifica also has a comfortable rooftop terrace and vodka bar stocked with 150 bottles from more than six states and 20 countries.
If variety is the spice of your life, make plans to take advantage of Palm Springs Desert Resorts Restaurant Week. For 10 days at the beginning of June, more than 100 local establishments — from the renowned Copley's on Palm Canyon to the fashionable Lulu California Bistro and many more — show off three courses of culinary creations for a set price of either $26 or $38 per person. Reservations are recommended.
Plan Your Palm Desert Getaway
Contact your Personal Concierge today.
By: J.B. B., a paid contributor